Leeds United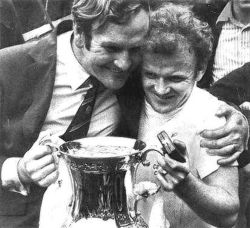 One of the great things about coming home for Christmas is that I get to read all the old football books from my childhood.
To help take my mind off the swansea defeat I starting reading The FA Book of Soccer from 1975, in particular a chapter by Don Revie who at the time was manager of England. As you would expect the great Don Revie talks affectionately about his time at Leeds United. He also talked about football matters in general and there were two things that really stood out for me:
How Much The Game Has Changed
Can you imagine this happening today? When talking about his relationship with the players Don says "During my thirteen and a half years as Leeds United's manager, there was not one occasion when we came into conflict over their contracts. Indeed, they generally signed blank contracts. They would give me an idea of the financial terms they required, and then leave it to me to negotiate the best terms I could with the directors and fill in the details!"
How Some Things Never Change
Don Revie also talked about getting respect, loyalty and 100% effort from players and he mentions how his fellow managers were finding this increasingly difficult to do. To support this claim he quotes the ex Arsenal manager Bertie Mee who talked about "Young footballers totally concerned with what they can get rather than what they ought to be giving."
Sounds familiar doesn't it? Lee Bowyer, Harry Kewell, the entire England team! To name but a few.
Have a great New Year and don't forget to raise a glass to the late, great Don Revie.
Leeds United: Down memory Lane