Leeds United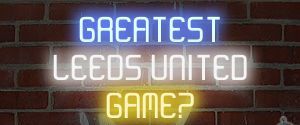 One the things I intend to feature on the leeds united blog are video clips of leeds united greatest football matches. I would to hear from leeds united fans who were at the match in question, as well as their views as to what they consider the greatest leeds united football match ever.
I was only 3 years old when The first entry in the search for the greatest leeds united game took place. I'd gladly be 10 years older to have seen this one. "To say that Leeds are playing with Southampton is the understatement of the season. Poor Southampton just don't know what day it is" Enjoy.
OLAY'S at the ready.
Dirty Leeds, my arse!
Leeds United