Leeds United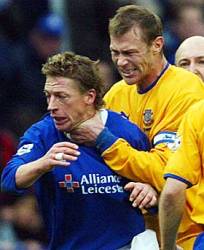 The Times Online recently published a list of football's 50 greatest hard men. Leeds utd fans will be interested to note that the following players with a leeds united connection were listed and described as follows:
5 Johnny Giles (Leeds United and Ireland)
Harmer Giles graduated from Don Revie's Academy of the Dark Arts with honours. In a team populated with miscreants, Giles was top of the shop. Chelsea's Tommy Baldwin said, 'Giles was the main instigator of the really bad tackles.'
13 Paul Reaney (Leeds Utd)
Best also rated Meanie Reaney among the people he least liked being kicked by. '(He) was among the toughest players I played against,' he said. 'He was at you the whole 90 minutes, using every dodgy trick in the book.'
16 Billy Bremner (Leeds United and Scotland)
The truculent so-and-so from a rough housing scheme in Stirling was the fiery ginger Scottish tough guy incarnate. Once described in a Sunday Times headline as '10st of barbed wire.'
18 Norman Hunter (Leeds United and England)
Storming Norman was the first villain to claim the nickname 'Bites yer legs'. Leeds' trainer Les Cocker was once told Hunter had gone home with a broken leg. 'Whose is it?' he asked.
28 Jack Charlton (Leeds United and England)
Denied ever having a little black book of prospective victims. But he was always the evil twin to Saint Bobby.
31 Kenny Burns (Nottingham Forest and Scotland)
Every city he played in needed a Burns Unit at the nearest hospital.
34 Joe Jordan (Leeds, Manchester United, AC Milan and Scotland)
There have been few more fearsome sights in the European game than 'Jaws' Jordan without his front teeth.
You can read The Times Online list of football's 50 greatest hard men in full by
Clicking Here
.
Girly Footballers
But what about the other side of the coin? Because for every football hard man, there is a pretty boy more interested in his hair and how he looks than getting stuck in for the team. As such, the leeds united blog is pleased to present Football Ying & Yang.
Leeds United Blog: Football Hard Men