Leeds United
Leeds Utd: Lucas, Richardson, Marques, Heath, Parker (De Vries 73), Prutton (Flo 73), Douglas, Hughes, Carole (Westlake 55), Beckford, Kandol. Subs Not Used: Huntington, Kishishev.
Cheltenham: Higgs, Jeremy Gill, Caines, Duff, Wright, Vincent (Lindegaard 72), Bird, Sinclair, Spencer, Gillespie, Connor (Madjo 77). Subs Not Used: Scott P Brown, Gallinagh, D Agostino.
Goals: Cheltenham (Gillespie 86).
Att: 7,043
Referee: Lee Probert
What is with leeds conceding goals from 30 yards out? Keep the faith, we would have more than settled to be where we are in the league now at the start of the season.
The Leeds United Distractor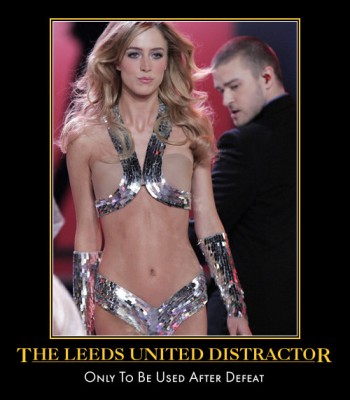 If losing didn't feel so shit, winning wouldn't feel so sweet but that's not much comfort on a day like today, particularly on a Sunday when all you've got to look forward to is work in the morning and people taking the piss who don't support God's own team. That's why as from today the Leeds United blog will be activating the Leeds United Distractor. As the promotional poster featuring Big Leeds United fan Justin Timberlake notes, the Leeds United Distractor is only to be used (hopefully not too often) after defeat.
The leeds united distractor simply consists of something to take your mind off the game. In this case a video from a Japanese game show. I can't begin to tell you how much I think the next England Football manager should be allowed to use the Slapping Machine on underperforming players before, during and after a game (you'll know what I mean when you watch the video).
Leeds United Matchday