Leeds United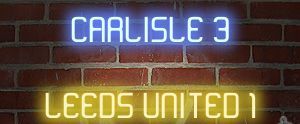 Carlise 3 (Hackney 61, Garner 70, Bridge-Wilkinson 90), Leeds United 1 (Beckford 28)
Carlisle: Westwood, Raven, Livesey, Murphy, Aranalde, Anyinsah (Gall 72), Lumsdon, Bridge-Wilkinson, Hackney, Garner (Carlton 90), Graham. Subs: Howarth, Arnison, Smith.
United: Ankergren, Richardson, Heath, Marques, Clapham (Huntington 90), Prutton (Constantine 76), Douglas, Carole (Da Costa 76), Beckford, Kandol. Subs: Weston, Lucas.
Referee: P Dowd
Booked: Bridge-Wilkinson (Carlisle), Clapham, Prutton, Heath, Hughes, Kandol (leeds united)
Att: 16,668
Not much to say really, other than gutted! The following football video is designed to keep your mind off the result, for a few minutes at least!
Worth watching just to see Judas Floyd go for a burton against Arsenal at elland road.
Leeds United Matchday