Leeds United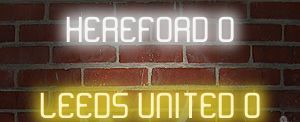 Hereford: Brown, Rose, McCombe, Broadhurst (Taylor 63), Threlfall, Ainsworth, Smith, Diagouraga, Easton, Robinson, Benjamin (Guinan 72). Subs: Webb, Ingham, Gwynne.
Leeds United: Ankergren, Marques, Huntington, Heath, Parker, Weston (Da Costa 72), Howson, Douglas, Carole (Clapham, 90), Kandol (Constantine 83), Beckford. Subs: Bayly, Lucas.
Referee: A Bates
Booked: Douglas, Parker (Leeds)
Att: 5,924 (1,070 Leeds)
Ronnie Radford, your boys took one hell of a beating. Well not exactly, and to make up for the lack of goals let's have a look at Ronnie's screamer. Never tire of watching this one.
By the way, still can't get my head around leeds united playing a FA cup tie in November.
The Original Rocket Ronnie
Oh yeah and some guy called George scores as well. Damn fine year 1972! Something about this footage reminds of Leeds United Vs Ipswich Town, can't quite put my finger it on it though!
Leeds United Matchday