Leeds United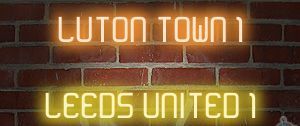 Luton Town: Brill, Goodall, Perry, Jackson, Keane, Currie (Morgan 68), Robinson, Andrew (Parkin 75), Spring, Talbot (O'Leary 84), Furlong. Subs: Beresford, Hutchison.
Goals: Parkin 90.
Leeds United: Ankergren, Richardson, Huntington, Kenton, Parker, Prutton, Hughes, Johnson, Sweeney (Westlake 90), Beckford (Flo 86), Kandol. Subs: Heath, Carole, Sorsa.
Goals: Huntington 27.
Referee: Mike Dean
Booked: Huntington, Ankergren (Leeds)
Att: 9297
Just not happening at the moment. Great set of results last night, chance to go second and then the very thing we were doing to teams on a regular basis in the first half of the season happens to us. Gutted!
Still at least playing Luton gives me the chance to take the piss out of infamous curb crawler David Pleat. Remember his camp running and skipping pitch celebration back in 1983? Bad enough on its own, but to do it in a shit beige suit!
Luton's life saved by a Yugoslav! Yugoslavia doesn't exist anymore a bit like Pleat's career in football management.
Leeds United Matchday: Luton Town 1 Leeds Utd 1