Leeds United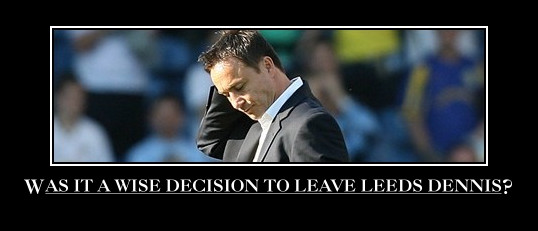 Not sure how I feel about this one. I still believe that with the time and players he had last season it was a disgrace that we went down, but on the other hand he deserves credit for galvanising the squad after the 15 point deduction and pushing us to the verge of promotion.
As Leeds united fans I think it would be naive to think that Dennis wise would show any loyalty to our great club. This is just one more twist in the roller coaster that is Leeds United. Think we'd be used to it by now wouldn't you!
As an eternal optimist, here's my prediction. New manager comes in, Leeds secure back to back promotions and our first game back in the premier league is Newcastle at home. Bring it on!
Your Reaction
Leeds United Newsflash: Dennis Wise Leaves Leeds